Semi-annual Academic Journal
The Gdańsk Journal of East Asian Studies
---
Editor-in-Chief: Professor Kamil Zeidler
Secretary: Joanna Kamień
Publisher: Gdańsk University Press
ISSN 2084-2902
e-ISSN 2353 8724
MEiN points – 70

Gdańsk. Since the journal was founded, 19 issues of the semi-annual journal have been published, in which we have published a total of 234 academic articles, 17 student pieces, 30 book reviews on East Asia, and 50 reports on various events concerning East Asia. It is one of the two leading Polish academic journals devoted to the countries of East Asia, mainly China, Japan and both Koreas, but also other countries of the region.

The topics of academic articles concern all aspects related to the study and presentation of these countries, i.e. primarily law, politics, economy, history, culture, philosophy, and literature. The criterion for the selection of articles is, therefore, not the field of scholarship, but the choice of a topic related to the East Asia region. The journal is interdisciplinary and the aim of the editors of this semi-annual journal is to familiarize both Polish and foreign readers with the countries of East Asia, as well as to popularize the academic achievements of Polish authors on relevant topics. The main goal, however, is the exchange of ideas between academics from Poland and abroad; popularization of research on East Asia contributes to establishing contacts with academics from East Asia and is an excellent starting point for cooperation.

The editorial board of the Journal has set itself the primary goal of expanding contacts with academics from abroad, especially from East Asia, as well as the internationalization of the Journal. To achieve this goal, from 2019, it is planned to publish one issue of the Journal entirely in English. We invite you to submit articles to our Journal.

GSAW is on the Ministry of Science and Higher Education's list of ranked journals with a score of 70 points and is indexed in eight academic databases: ERIH PLUS, EBSCO, CEJSH (The Central European Journal of Social Sciences and Humanities), CEEOL (Central and Eastern European Online Library ), Index Copernicus, Google Scholar, PBN / POLO-Index, WorldCat.
How to publish your article?
---
Articles of up to 40,000 characters with spaces should be sent to the secretary of the editorial office: joanna.kamien@ug.edu.pl . The journal is published twice a year (at the end of June and at the end of December). Articles for the June issue should be sent by February 15th, and articles for the December issue by August 1st.
All articles are reviewed in accordance with the principle of confidentiality (double blind review process). The rules of publication ethics relating to the journal Gdańsk Journal of East Asian Studies comply with the guidelines of the Committee for Publication Ethics (COPE) www.publicationethics.org/resources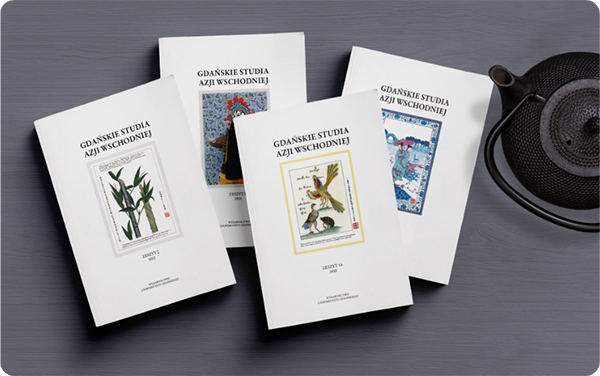 Paper copies of GJEAS
---
We encourage you to visit the website of the University of Gdańsk Press and to read the wide range of academic publications related to East Asia.
Online bookstore